My husband was working for a multinational company in Leopoldville (Kinshasa). I'd never been anywhere before that where there was no law and order and such dire food shortages. There wasn't even enough proper food to feed my baby. But then we got caught up in a war, which was terrifying. We both wanted to get away from Leopoldville so my husband took a job on plantation in the interior. It was, literally, in Conrad's Heart of darkness, and we had to travel in a small boat 150 miles down the vast Congo River to get there. It was an amazing journey past tiny fishing villages and virgin jungle. I was determined to love this place, and in many ways I did because it was so peaceful and beautiful. But there was endemic malaria and if any of us got seriously ill we were a thousand miles from Leopoldville, so there was always a lurking danger. When we started hearing rumours of war, both my husband put our heads in the sands. The village people were friendly and we didn't believe anything could possibly happen to us. But the war did break out and all the white people were taken hostage in Stanleyville. That evening four men came to our house and said: 'Mauvaises nouvelles. Tu doit partir tout de suite' – you must leave now' 'I can't' I said 'I've been to the doctor and he says I'm about to give birth any moment.'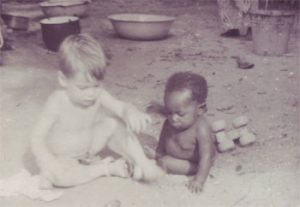 It was a shock but I was never frightened because I think you go into survival mode. You've got a child and a baby on the way and everything else is unimportant. I knew I had to survive. I didn't waste any time, the doctor came round and said 'I'm going to give you an injection to calm you' and I said 'Thanks a lot but no.' – that's the colonial in me – 'Just tell me what I should do' and he said 'Cry', which is a very good bit of advice. We left just before dawn and I howled when I had to say goodbye to my husband who had to stay behend. There was a tiny little plane, an eight-seater, waiting for us on the other side of the river, and I was piled in with my little son, sitting on my knee. The plane, which was overburdened, didn't fly us all the way to Leopoldville. We stayed overnight in a small mosquito-ridden plantation in the middle of the jungle and I said to the doctor there 'Look I'm about to give birth' and he said' 'I will put a man outside your window. Just call me if you go into labour during the of the night.' He was very dubious about letting me go on. He got the nurse had a very serious consultation but, in the end I was piled me onto another plane. It was a real endurance test. We flew to somewhere that was unbearably hot on the equator, and had to have another break because they were shuttling people out of the danger zone as fast as possible. Eventually they put us a plane for Leopoldville. We were among a huge amount of refugees who were fleeing from the conflict, it was very dramatic. I said to the doctor who'd come to meet me at the airport 'I've made it so far I'll just go on to London.' and he said 'Oh no I need to examine you first.' So he put me on a table and said 'You're already well dilated.' In other words I'd actually gone into labour. By now the enemy were the other side of the river and I gave birth there, in a war zone.
I didn't write about it for years and years because my feelings were so conflicted. I had to find the right voice. I was writing about very serious injustice not only in the past, but in the present. The democratically elected Prime Minister Patrice Lumumba had just been assassinated by agents in the west. And there was still inherent racism in the multinational corporations. But, of course we were only tiny cogs in a huge wheel; the fact that my husband thought his job was significant and took it so seriously, while I was ridiculously idealistic and romantic, struck me as inherently comic. And the minute you send yourself up a bit, it helps no end. After that it was easy because it was a memoir. We were at a crucial turning point in history and I was right in the middle of it.